Communication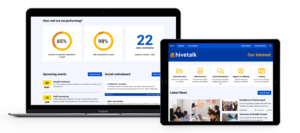 News Hub
The News Hub is the window to your organisation, drawing users in with up-to-date, informative content. With the ability to target content to specific audiences, your employees will know the intranet is tailored to their interests.
KPI Dashboard
The KPI Dashboard enables you to visualise your organisation's data – whether it's sales, project management, finance or helpdesk queries. Insightful charts display your valued metrics and provide a discernible view of business performance.
Collaboration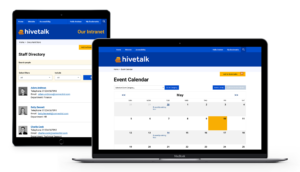 Staff Directory
The Staff Directory sits at the heart of Hivetalk, helping employees to find one another and share their expertise. User profiles provide quick access to contact details and cover each staff member's specialist knowledge and connections in a simple, effective way.
Social Noticeboard
The Social Noticeboard enables you to create open spaces where employees can generate fresh ideas and collaborate, encouraging a connected culture where everybody's voice is heard.
Events Calendar
The Events Calendar enables teams to create and manage upcoming events, with Google Maps integration providing tap-and-go directions. The option to automate recurring events means your IT team has one less responsibility to manage.
Information Sharing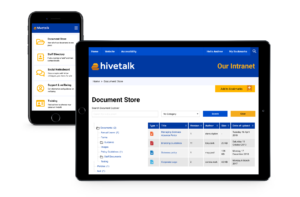 Document Store
The Document Store is your go-to place for policies, guides and important information, with support for drag-and-drop file uploads. Instantly share files with version control and tags to keep employees informed of the latest developments.
Knowledge Bases
Knowledge Bases provide an unlimited number of areas for sharing information with employees, such as FAQs and training manuals. Access can be controlled to specific audiences, ensuring content is only viewed by those with the appropriate permissions.
Workflow Automation
Form Builder
The drag-and-drop Form Builder enables you to digitise paper-based forms in a matter of minutes, helping to streamline processes and improve information accuracy. When an employee completes a form, the relevant personnel will receive an alert informing them of the action they need to take.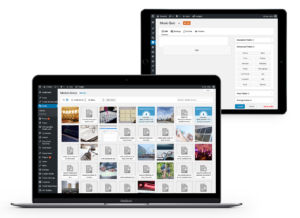 Media Library
The Media Library is where all of your images, audio and video files reside. The library enables you to view, filter and edit media uploaded to your intranet, meaning no more time is spent searching for files on shared network drives.
Content Rollback
Hivetalk's intelligent revisions system allows you to roll back to previous iterations of content, in the event of a mistake being made or content needing to be restored quickly. A clear, colour-coded interface indicates what has changed, and even allows you to compare two revisions side-by-side.
Integrations
Hivetalk can integrate with a number of third-party applications and systems, including Active Directory, Single Sign-On (SSO), SharePoint, Office 365 and Yammer. Built-in integrations ensure your employees have access to all of the information they need from a single, central location.






Intranet features that make your working life easier
Hivetalk gives you access to dozens of tools that maximise productivity and boost efficiencies
Analytics Reports
Audio & Video Playlists
Audit Logs
Automatic Updates
Branded, Responsive Design
Comments & Likes
Document Review Dates
E-mail Notifications
Embedded Videos
Employee Blogs
Flexible Layouts
GDPR Tools
Image Galleries
Important Announcements
Organisation Chart
Personal Bookmarks
Polls, Questionnaires & Surveys
Role-based Permissions
Scheduled Publishing
Search Reports
Social Media Feeds
Universal Search
Useful Links
WCAG 2.1 Level AA Accessible
WYSIWIG Editing